My elder one somehow doesnt like Indian sweets and savories much ;) except very few.He liked the urad dhal vada couple of times earlier and my little one is a BIG vada/bonda/bhajji eater ;).The elder is at home for his spring break and we could not get him out of the house as the weather still sucks here with cold breeze.I thought let me make something, he likes throughout the week and this was made a couple of days back.
Ingredients
2 cups Urad dhal white
1 big onion chopped finely(would love to replace pearl onions/shallots,but got use to these big onions)
2 green chillies chopped finely
few curry leaves spring chopped finely
few coriander elaves chopped finely( I skipped)
a small piece of ginger grated(Skipped)
whole pepper(Skipped)
a big pinch of hing (powdered)
salt
Oil for deep fat frying.
Method
1.Wash the urad dhal until the dirt is cleaned.Soak it in water for 1 hour.45 minutes was enough for me.Press it with your nails and if you feel the urad is soft enough to grind,thats the consistency.Do not soak it for long hours.
2.Add the urad dhal to your wet grinder(no blenders n no mixies please) and grind by drizzling cold water, as and when needed(Remember very very less here).Do not pour water.Just drizzle with your fingers.Less water matters good shaped vadas.
3.Once its ground well(creamy batter consistency).Take it out and move the dough it to a bowl.By hands just stir the dough well with salt.
4.Heat a frying pan and add oil at medium flame.
5.At piping hot, drop the vadas one by one in batches and deep fry until they turn golden brown.
Shaping the vadas
Keep a bowl of water at the side.Wet your left palm by just dipping your right hand fingers into them and applying it to the left palm.Wet your palm for each and every vada you make.
Take some vada dough.Make a ball like shape in the left palm.Flatten it using the right hand fingers.
Now flatten it even more on the sides using right hand fingers again(If you skip this step,the vadas would be bulged with a center hole and you will miss the real beauty ;) )
Transfer it to the right hand fingers (except the thumb) just by placing the shaped dough on them.Now you can shape the hole perfectly using your right thumb again.
Drop it in the piping hot oil.(Dropping wont be a problem.It would slide easily).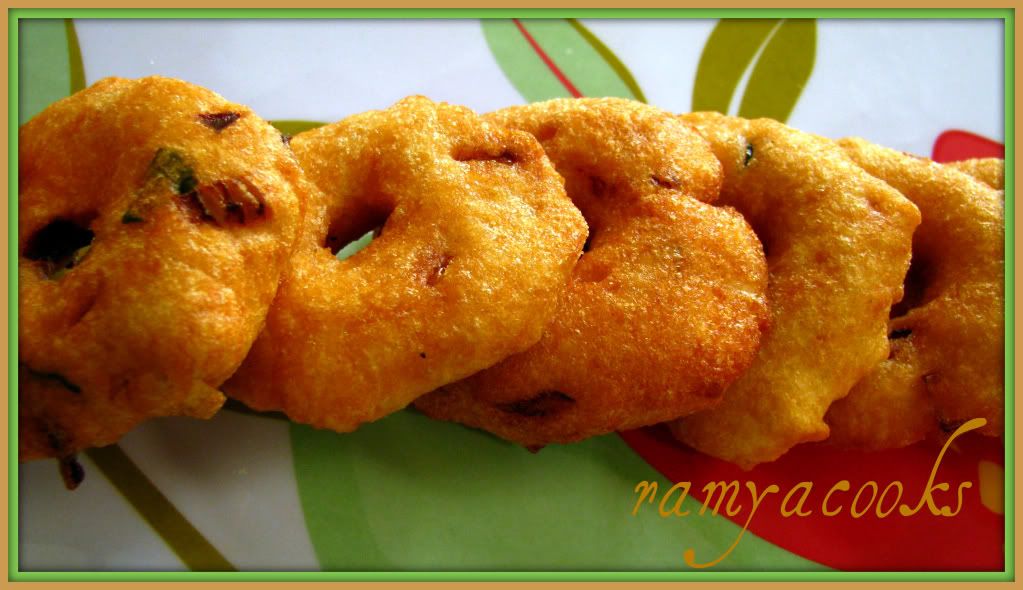 Few more to add
The vadas would turn dark in a batch or two as soon as you dropped it into the oil,even if your oil is at medium flame.This will happen and though your vadais taste great they wont look good.
To avoid this as soon as you first batch is done reduce the flame(you have to experiment with this) and start the process again.
I love to have whole pepper in vadas and pongal,also the ginger...which is totally hated by my DH and kids.The coriander leaves I skipped because,I felt it will bring in more dark spots outside if it comes in the outside ring.
Heard from somewhere somehow...Not sure from whom ;) that adding the soaked sabudana and grinding it into a paste along with the urad would give crispier vadas.But this crispiness is enough for me.But definitely will try sometime later and will let you all know.
Please if you follow this recipe,and if it comes out good...Mail in a word or two....Even if you experiment fails let me know and we will correct it.
People use ziplock bags instead of palm to flatten the vadais...Na Na...I have two great hands...Nothing works better ;) than those :)
If you have leftover dough dont keep it at room temperature.Store it in the refrigerator.
Read the entire recipe here