I am( We both actually,Myself n DH) quite busy nowadays,but didnt want to neglect my blog totally :) and here it is a recipe for a sweet friend Priya ;).Hope you enjoy this one Priya ;).This recipe has become my DH's most favorite.Add more and more pepper,make it spicy and ENJOY ;)....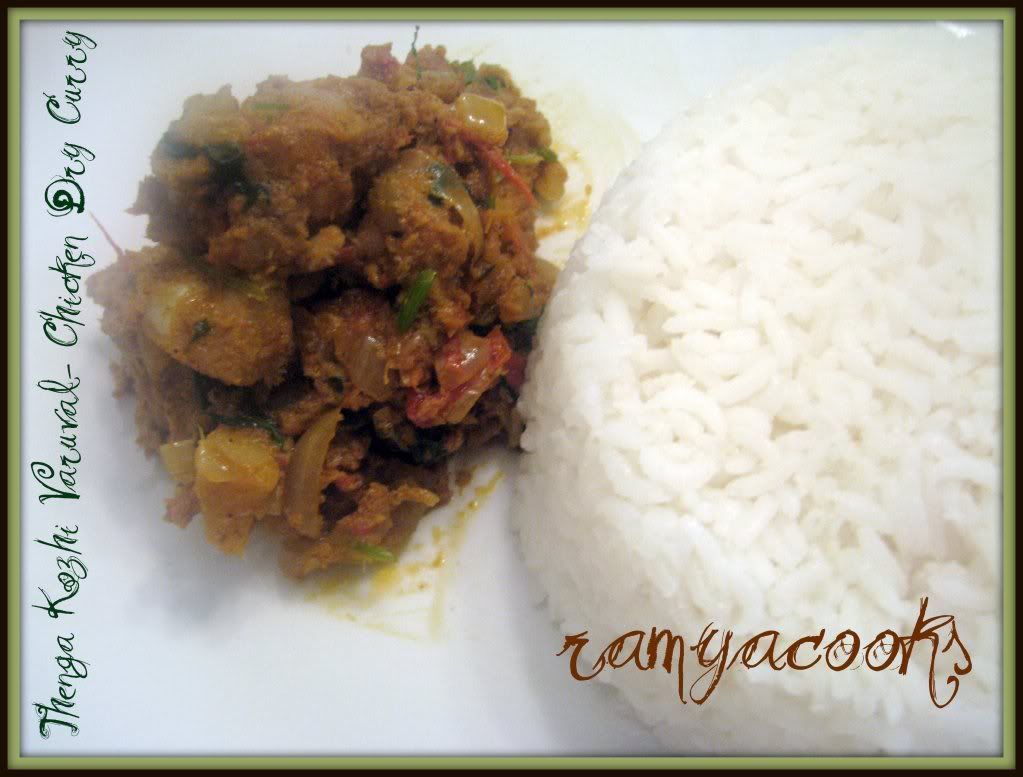 The blur effect - I did n't create it ;) The rice and curry was so hot and it was the steam ;) and I cudnt wait to take a better picture ;) Everything in the picture was all mine that day :)))))
Ingredients
1 big onion finely chopped
2 medium size fleshy tomatoes finely chopped.
4 crushed green chillies.
3 tbsp coconut( ground roughly or finely).
1 tbsp fresh ginger-garlic paste.
3 tsp dry roasted saunf powdered.
2 tsp coriander powder.
2 tsp garam masala powder.
1 tbsp meat masala(I prefer aachi mutton masala).
1/4 cup finely chopped coriander leaves.
ground black pepper(as per taste).
few curry leaves.
Salt
Oil.

For the marinade
1 lb bone-in chicken(cut into small pieces)
1 1/4 tsp ground turmeric.
Red Chilli powder(as per taste)
Some salt.
Method
1.Wash and clean the chicken thoroughly in water.Marinde the chicken with the ingredients given under marinade for half an hour.
2.In a heavy bottomed wok,add oil and once its hot add the bay leaves.
3.Then add the onion,green chillies,ginger garlic paste,turmeric powder,curry leaves and saute continuously at low medium heat until the onions turn translucent.
4.Next to go is the tomatoes.Saute the tomatoes, until it turns mushy.
5.Now add the marinated chicken,salt,ground saunf,garam masala,coriander powder,meat masala.Saute until the chicken oozes out extra moisture in it.
6.Add the coconut,turn to high flame and saute contunously scrapping the bottom and sides ;).(I juz luv the left over gravy which sticks at the bottom ;) )
7.Never add water,when the mixture becomes dry, add the pepper and chopped coriander and mix well.
8.Serve it with Hot rice and rasam...YUMMY !!!
Notes
1.I dont prefer using a non stick pan for this recipe.I use stainless steel vessel.
2.You can add/ reduce the pepper..It depends on your tastebuds..
Read the entire recipe here