Last year when I read this recipe from
Uma's blog
,I tried with my own version on the very same evening and since then, its a great hit each and every time I prepare it .This is an excellent snack,deep fried though ;).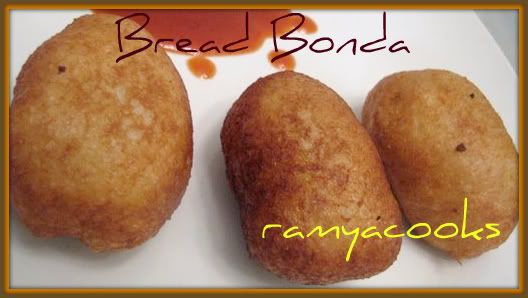 Ingredients
4 loaves of white bread(crust removed)
Oil for deep fat frying + a tsp or more for preparing the stuffing
For the stuffing
1 small onion.
1 big potato(cooked,deskinned and mashed).
1 small carrot.
1/4 cup or less indian green peas.
1/2 tsp Kasoori methi
Chilli powder(as per taste)
!/2 tsp garam masala
! tsp ginger garlic paste
Salt.

Method
1.Pressure cook the veggies until done.Remove and keep it aside.
2.Heat the pan and add a tsp or more of oil.Once its hot,add the oinion and saute until translucent.
3.Now add the ginger garlic paste and saute until the raw smell fades away.
4.Add the cooked veggies to this.Add a teaspoon of water to the chilli powder,garam masala powder ,salt and add it to the veggie mixture.Mix well.
5.Just beofre switching off the flame,add the kasoori methi and saute once.
6.Let this mixture cool.
7.
In a plate pour some water, dip each bread slice and gently squeeze out the excess water by pressing the slice with your both palms.
8.
Place some portion of the prepared mixed vegetable mixture in the center of each slice and bring the sides together to seal the edges completely and try to make an oval shape.
9.Do the same with rest of the slices.
10.Heat oil for deep frying.Once its really hot add the stuffed bread slices one by one and fry until golden brown.
11.Serve it hot with ketchup.
And coming to RCI-Kongunadu cuisine event,I really didnt want to miss it and wanted to post some thing apart from the archive and all I could make is from archive and happy that finally I could make that atleast.Born and brought up in Coimbatore,a part of Kongunadu...Me and my hubby just love to have the dishes that originated from there(which I have mentioned in my earlier posts)...and here is the recipe round up which goes to
RCI -Kongunadu cuisine hosted by Priya
Read the entire recipe here