I have tried almost all the ways to get soft idlies.And according me,this is the best method to get softest idlies.This is my MIL's trick to add sabudhana in idlies.Last week,prepared these idlies for breakfast,and here is the hurry burry click, as I had send my kiddo to school and also the camera battery was down :(.Excuse me for the pictures,will change sometime soon.
Idli
This is the updated picture-didnt want to delete the older picture ;)My never fail recipe...Spongy Idlies :)
Ingredients
4 cups Idli rice
1 cup Urad dhal
1/4 cup Sabudhana(javarisi)
1 tbsp Methi seeds.
Method
1.Soak the ingredients separately for 5 hours.
2.Grind it into a fine batter with enough water needed.Be careful while adding the water.Thin consitency batter cannot turn into good idlies :).Add enough salt needed.(I have seen people adding salt,once the batter gets fermented,but I always do just before fermenting).Also I don't add water after fermenting,I do it before hand(just for the idlies).Try,for the difference :)
3.Transfer the batter into a closed vessel and allow it to ferment overnight or for 8 hours.
4.Just before pouring the batter in idli moulds,grease all the moulds with oil or spray.
5.Mix the batter very well with the round headed spatula and add it to the moulds.
6.Heat water(below the idli stand level) in the idli vesseland once it is hot,place the idli stand and close it with lid.It take 10 to 15 minutes to get cooked.
7.Now insert a fork/wooden toothpick in one of the idlies(I hate the finger impression in idlies) and if it comes out clean,idli is ready to serve :).
8.Enjoy with Sambhar,chutney or any of your favorite curries.
Tomato Chutney
A simple and quick tomato chutney.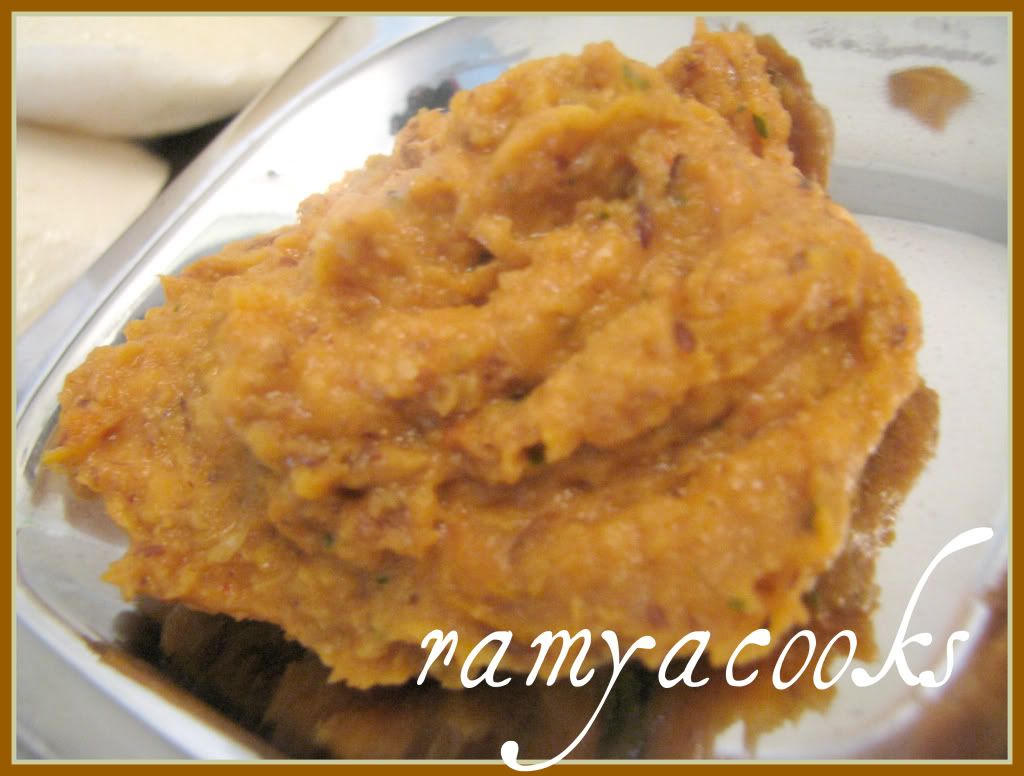 Ingredients
1 small sized onion roughly chopped
1 medium sized tomato finely chopped.
2 garlic cloves
1 tsp jeera
1/2 tsp kadalai paruppu
2 dry red chillies
6 to 7 curry leaves
2 tbsp shredded coconut
oil
Method
1.Heat a pan and add oil.Oce its hot,add the jeera and red chillies.Once the it truens slight brown,add the channa dhal,curry leaves and saute until the channa dhal turns golden brown.
2.Now add the onions and saute until it turns translucent.
3.Now add the tomatoes and saute until it turns mushy.
4.Finally just before turning off the heat,add the shredded coconut.
5.Allow the mixture to get cooled and grind it along with enough salt.
6.Finally you can make some tadka(heat oil,add mustard,curry leaves and red chilli) and pour over the chutney.I omitted here.
Read the entire recipe here