A simple side dish.Prepared it for today's lunch,and Wow..this is my first quickest post :)
Lets read about Okra
here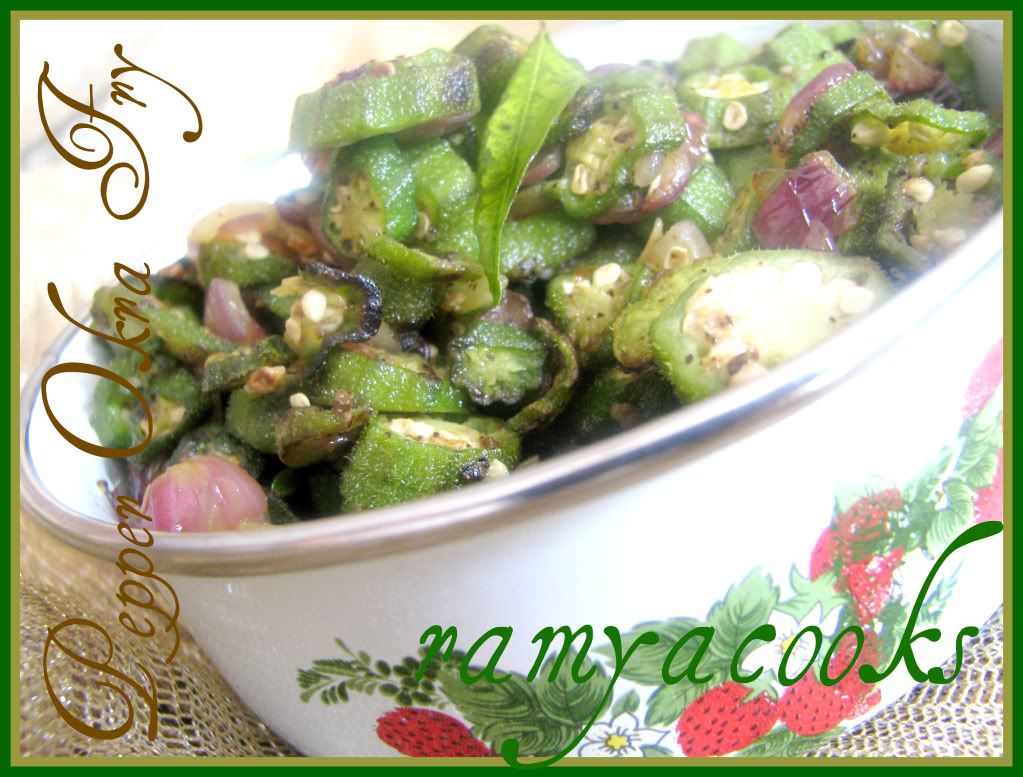 Ingredients
2 Cups Okra(Vendai/ladies Finger) -thin round sliced
1 medium sized Onion(Yellow/Red)finely chopped
Ground black pepper(as per taste)
1 tsp Mustard seeds
1 tsp Split Urad dhal/Channa dhal(optional)
Few curry leaves
1/4 tsp turmeric powder.
2 tsp +2 tsp Oil
Salt(as per taste)

Method
1.Wash the okra and using a napkin,drain the outside moisture using a napkin or with a clean cloth.
2.Slice the okra and spread them over a napkin or over a dry cloth for 1 hour.(This will mostly remove the skicky nature in Okra)
3.Heat a wide and shallow frying pan.Add 2 tsp oil and once its hot add the okra pieces and saute continuously on medium fire.Once the okra is 1/2 cooked,add the turmeric powder,salt(a pinch less than needed on a whole) and ground pepper(just a little less than needed for the whole procedure) and saute continuously until the okra pieces appears to shrink in size.
4.Remove the okra now.In the same pan,add 2 tsp oil and once its hot add the mustard seeds.Once it starts spluttering,add the urad dhal or channa dhal and once it becomes golden brown,add the onion,curry leaves,salt( the rest needed) and turmeric.Saute until the onion becomes translucent.Add the ground pepper a pinch and stir well.
Now add the cooked okra and fry for just a minute.
5.Remove and serve it as a side with any Rice and any curry,rasam,or Yogurt.